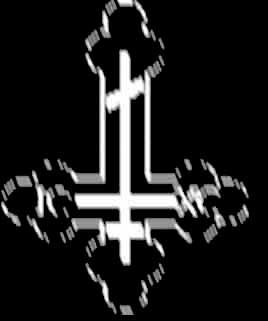 i n v o c a t i o n
l a m e n t
i n c a n t a t i o n
d e s e c r a t i o n
i n c a r n a t e
e x p l i c a t i o n
d e s t i n a t i o n s
d i s c u s s i o n
disclaimer | home
Other
Unholy

Visitations

Devoted to following the ways of information transmission, the insidious usurper of VIRUS being the primary agent of dis-control.
From the Suffer or Satire Dept., the "Other Side" goes off about what rock they think is Satanic. We have better recommendations: here.
Post a few of these in post offices near you.
Profligate distribution of memetic counter-strikes against the ludicrousness of Christinanity, with parodic intent and sardonic wrath.
Charles Baudelaire's poems to the dark lord, sort of goofy but illustrative of certain aspects of evil.
Links about evil with reviews and editorial commentary. Cool page by a Slayer fan.
An investigation into spirituality without Judeo-Christian influence.
Texts from upper Egypt reflecting the values of a pre-Christian middle eastern paganism.
A religious tolerance group describes the historical roots and revisions of Satan.
Biblical citations tracing a brief memography of Satan.
A website devoted to Satanic usurpation of mainstream Western religions, with totalitarian imagery.
An exploration of the religious symbolism behind Satanism.
A group devoted to ridding the genocide of all Christians from this earth. Extreme!
This group wants to get all three religions as soon as possible.
Research into symbolism, theology and background of Satanism.
Some of the few sane ones... we'll set them aside when the time for jihad against all light, goodness, purity, hope and love has come!
Open your historical view to the worlds outside of the disease of Judeo-Christianity. For the elite only!
Sowing doubt is the work of SATAN, and we carry on in his image!
Symbols and signs of cults at war.
Humorous telling of the descent into poserdom.
Graphics and icons to help destroy the dogma of Christ!
Invert the cross, burn the bible, paste onto web page.
Vampiric ideology/occultism.
Copyright © 1994-2004

mock Him productions