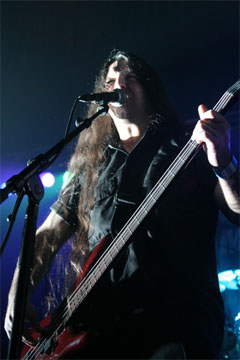 I think with our first album, our influences are more noticeable than they are in the later albums. This album in particular was written over the course of three years, a few songs here, a few there, until it was finally ready, and actually the last two songs we wrote for that record were "Those Left Behind" and "Into Everlasting Fire," two of the strongest and most memorable songs of the record in my opinion.
As a young band, we wrote songs for fun and had no intentions of recording an album, nor were we planning on making a 20 plus year career out of the band. We wrote songs as an outlet, we were all into the same music and were trying to create our own version of that, only better and different. I was only 18 when the band formed in 1988, so in a lot of ways I had a lot of growing up to do, and as we matured and focused, so did the band.
I really don't think we nailed it until possibly our fourth record (Close To a World Below). The first three were a struggle for us to try to find our place, and although we were close, and all the elements were there, it was just a matter of fine tuning. I would say Here in After and Failures For Gods were albums that showed more of Immolation and less of our influences, but at the same time they were experimental in the sense that we were trying to create something unique and different, and didn't quite know how to get there. I think we were all very happy and proud of our earlier releases, but as the band matured, so did our song writing and confidence in our material.
Our goals I don't feel ever changed, we were just in a new place with each new record. Each new record was almost like a fresh start for us, leaving everything else behind and starting anew. We obviously wanted to make things better and better, but we never tried to out do ourselves and top the last record, there were way too many other obstacles without adding this kind of pressure into the mix.
As far as influences go, the main inspirations to play music are always there, and all I need to do to remind me of them is to see a great live show or put on a killer album that hits me the same way now as it did 25 years ago, then I am inspired all over again. The bands you mentioned above were all favorites and big inspirations to us as young musicians; in fact Exodus was the first underground metal band I ever saw live in August of 1985 in Brooklyn. They played with Carnivore, Nuclear Assault, Blessed Death and Agent Steel, and it was something I will always remember as a fan.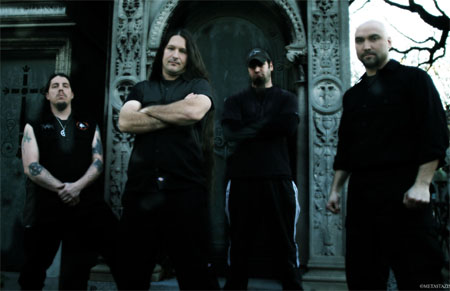 Here in After is our most complex album along with Failures for Gods, which I feel is even more complex in a lot of ways. Here in After was our second album, and this came after a long period of not writing any new material because we were in between labels, so it was about a five year period between the first and second albums, which in most cases would have been career suicide for most new bands, or a quick ride to superstar status to most bands today who come back after a long hiatus.
For us it was just business as usual. We were at that critical sophomore album phase, and knew there would be a little pressure to write something as good if not better than the first album which did really good for us for the time and amount of promotion. I can say that we never really made any conscious decision to take any technical metal high road; in fact, we never really felt this material was really that technical compared to some of the more tech bands out there. Sure, it had tons of tempo changes and many different parts coming and going, but I never considered it technical because we weren't technical players, and I felt that if we were able to pull it off, it could not have been that technical.
Let's just say the songs were a little too busy and involved for their own good at times. Sometimes it worked, sometimes it didn't, and after the Failures For Gods album, we knew where we needed to improve the songs and how to do it. The problem with these albums, especially Failures For Gods was that there were so many great riffs that were never allowed to make their mark, they came in for a quick measure and were gone again and we were on to a new part.
Looking back, we could have probably written an entirely separate album just with all the extra riffs that were not needed in these first two records. I know to some of our die hard old school fans this talk is blasphemy, but its how we feel, and we have made conscious attempts from Close To a World Below to the present to change this, which I hope had made things better. It has for us, so that's what really matters to us in the end. We have to be happy in order to continue.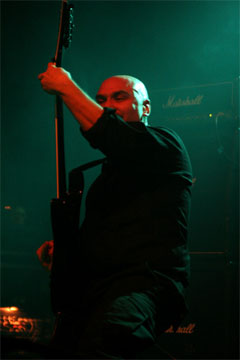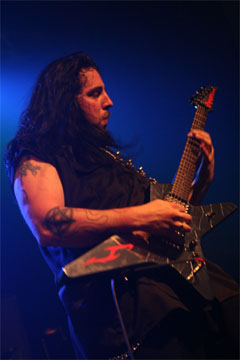 Well, I really can't speak for anyone else, but I would imagine and would like to think musicians use their music to express their thoughts and feelings, whether it be on religion, or just their take on the world. For us, Death Metal was the perfect vehicle for conveying our feelings, sometimes angry, bitter and sad, but ultimately to express ourselves through the music.
I don't think musicians sharing similar views will necessarily create the same types of music, because music is an individual thing and it is personal. Our music is very aggressive and powerful with a lot of heaviness, dark melodies, and very haunting at times, and this certainly reflects what the lyrics are saying. Some bands do have something to say in their music that is real and will make people think, other bands like to go in a different direction and create lyrics that are fantasy, pure entertainment for the listener, which is also fine, and we have also incorporated some of this to drive home our point on some occasions, but I think for the most part we fall into the first category.
We usually have something to say, and we don't like to be preachy about it, but we like to present it in such a way that it does paint a bleak picture, and I think this certainly drives home the point quicker once you understand what the point of the song is. This genre definitely has a culture AND a philosophy all of its own.
Most of the bands we have toured with are on the same page with regards to politics, world views and views on religion, so it is a common thread that I have found. Of course we sometimes have differences of opinion, which is normal, but overall I would say there is a like minded mentality with bands playing extreme music.