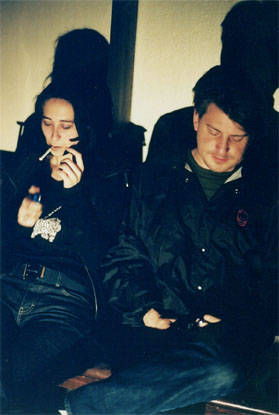 From people that we were trying to raise funds from, or from the musicians? Funders did not get behind this movie until we had done a substantial amount of filming. There were some amazing people who helped and supported us, but we spent a year trying to raise funding and it just didn't work. Norway was willing to fund us but there was a catch: the movie would have to be about "American filmmakers who go to Norway to investigate black metal." It would have to be as much about us as about black metal. Um, no thanks. So we scratched and scrambled, begged and borrowed, and ran up our credit cards to get to the point where we could raise finishing funds. We turned down hundreds of thousands of dollars because we weren't interested in making the movie that they wanted us to make.
With the musicians, it differed. We clicked with Gylve instantly, and he agreed to be in it right away. He was the first person we approached, and I think that helped to establish that we hadn't just read Lords of Chaos and hopped on a plane.
It would seem to go without saying that a film about Norwegian black metal has to have Gylve, Varg, and hopefully Hellhammer. Just, period. Or it's just fatally flawed. Gylve and Varg, with Euronmyous, CREATED Norwegian black metal. It would not exist were it not for the three of them each playing a distinct and crucial part in the formation, codification, and dissemination of the genre. There are certainly other great musicians who have contributed a ton to the genre, but it was the originators that we knew we needed to talk to.
We clicked with Gylve immediately, we spent less time with Hellhammer but have great affection and respect for him, and we were prepared to stop at any time, fold up, go home if we weren't able to get Varg's participation. We knew it would be very hard. We were relieved when, after eight months of correspondence with him, he finally agreed to meet Aaron. We were pretty confident that if we were given that opportunity we would be able to get his participation, and we did. I admit though, it was a relief, because by the time that happened, we'd been in Norway for eight months and had spent an awful lot of time and money on the film. He used to write us letters that stated that even if we made exactly the movie that he himself would make, he STILL wouldn't be in our movie. Those were hard letters to get. But we kept on with it, and finally he agreed. Once he actually met Aaron and talked with him and was able to see where we were coming from, it was not at all difficult. He was very open and forthcoming, except in cases where for legal reasons he couldn't say certain things on camera. Obviously, we can't and won't repeat any of that either. But even when he couldn't state things, he would allude to them. He was very open with us. Of course you can't blame him for being initially wary. He felt that he had been burned (no pun intended) by the international media circus that erupted in the early 90's. But we were able to convey to him what our intentions were, and once he realized that we were not there to make a quickie hype piece, and that we'd actually researched the hell out of everything, and I think just based on who we are, he agreed to participate. And we think that he would agree that the film is fair, and most importantly, honest.