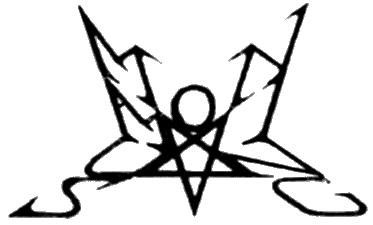 When black metal went more toward an orthodoxy that by nature of emphasizing its strengths, simplified its technique to the point of crumbling complexity, Summoning went another direction, and made slower, reverent music about a former (and possibly future) time of honor and conflict. In the history of metal, Summoning represents one of the more potent variants of ambient metal and an encouraging aesthetic for anyone tired of modern time. Protector, one half of the dynamic duo that Summoning became, went on to participate in several other projects focusing on a classic theme of black metal: an ambient consciousness from which a sense of beauty and thus meaning in life emerges.
You have created music in several bands, and have been moving toward ambient material throughout this career. What inspires you to work with this medium instead of more concrete one?
When you write songs, do you start with a visual concept, or a riff, or something else?
The music is always the most important thing during the composing process. I neither think about anything visual nor about lyrics until the very end of a song creating process. With Ice Ages, I start from deep sounds while the higher ones appear the more the song grows. In Ice Ages I often have some kind of bass drum sound or a mighty bass line and with the keys I play around without any special musical aim. I think the less fixed the mind is during the early songwriting the better results I get. This does not mean that I never work in a structured way; on the contrary, structured work is one of the most important things for me, but structure without some kind of chaos (or creativity in another word) is not possible. After I have a nice bass drum or bass line part I see if I like it and if I like it the competition of that song fragment is already clear. I easily find new sounds and new layers which I add after each loop and in most cases after 1-2 hours I already have a full musical arrangement in full length.
Summoning seems to rest at an intersection of genres. What were your influences, and how did they urge you to reach for this unusual style?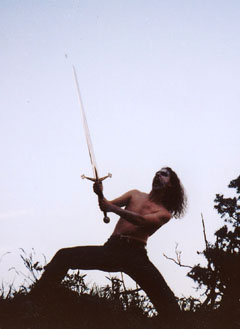 I never considered my way of working as a mix of different musical styles. Actually, the crossover idea that was birthed already 22 years ago with bands like Faith No More is for me rather something old fashioned than anything progressive. So I never tried to take any existing musical styles and mix them together to pretend to create something new; I just make the music I have inside and see what comes out. When I was a child I learned classical drums, including kettle drums and march drums before I started to learn rock drums. My rhythmic style surely came from this part of my life. Also, the idea to create orchestral sounds is rather close at hand if you play the first time with a keyboard and check the different sounds. Another important part is the mentioned love for slower tempos which naturally grew at the time when super fast death metal was popular. It was a time where fast tempi started to bore me. So all in all you can see that the style is not the result of a wish to confuse people with style mixes but rather an expression of my musical taste and the musical experiences I have had during my life.
When Hellhammer said, "Only Death is Real," it launched legions of death metal and grindcore bands who showed us through sickness, misery and sudden doom (in their lyrics) that life is short, manipulations are false, and we need to get back to reality. Where should the genre go from there?
I cannot see much reality in metal of today. Apart from some hardcore bands for me most of the metal (specially black metal) music is more a kind of fantasy music even if they don't have fantasy lyrics. Even if some black metal bands try to spread some political views it's also just a kind of fantasy as it mainly deals with some 1000 year old tribes that don't have much in common with the present world. And also singing about death is not really dealing with reality because no one can know he feels after death.
But it should be particularly noted that if a public that was first placed in this yoke by the guardians is suitably aroused by some of those who are altogether incapable of enlightenment, it may force the guardians themselves to remain under the yoke--so pernicious is it to instill prejudices, for they finally take revenge upon their originators, or on their descendants. Thus a public can only attain enlightenment slowly. Perhaps a revolution can overthrow autocratic despotism and profiteering or power-grabbing oppression, but it can never truly reform a manner of thinking; instead, new prejudices, just like the old ones they replace, will serve as a leash for the great unthinking mass. -- Immanuel Kant, What is Enlightenment?
What are the goals of your art? Is there a goal to art itself?
I don't think so much in goals, or better said, not in distant goals. The goal is each time to make a perfect album and to add as much music and passion to it as possible. I don't have any goal concerning "success" for example. I think goals that are too huge are rather disturbing. Specifically, the aforementioned success goal would be a very disturbing one, because it would mean to try to adapt the music to the taste of the masses -- which we never did. I think the more a person makes music for the sake of music, the more pure and honest that music becomes. I don't want the music to become a kind of tool for any other aspects apart from music.
If sound is like paint, and we use different techniques and portray different things in our paintings, what does it say when a genre sounds similar and has similar topic matter and imagery? Can the genre be said to have a philosophy or culture ("subculture") of its own?
Sure. For example, Ice Ages is always dark and negative, so the spectrum might be limited, but I think that life and the world is something endless so even if you limit the aspect used for your music you still have endless things to sing about. I prefer to focus on special parts than to integrate as many elements as possible. There is not so much super dark slow music around on the world, so it's a natural thing to deal with that for me.
Ice Ages often sounds like ambient music, soundtracks, and the epic warlike feel of black metal rolled into one style. What sort of "space" are you trying to create for the imagination of your listeners?
Some have said that death metal and black metal use "narrative" composition, where a series of riffs are motifs that evolve toward a passage between states of mind for the listener. Is this true, and if so, how is it reflected in your songwriting?
Now in what way is the lover to be distinguished from the non-lover? Let us note that in every one of us there are two guiding and ruling principles which lead us whither they will; one is the natural desire of pleasure, the other is an acquired opinion which aspires after the best; and these two are sometimes in harmony and then again at war, and sometimes the one, sometimes the other conquers. When opinion by the help of reason leads us to the best, the conquering principle is called temperance; but when desire, which is devoid of reason, rules in us and drags us to pleasure, that power of misrule is called excess. Now excess has many names, and many members, and many forms, and any of these forms when very marked gives a name, neither honourable nor creditable, to the bearer of the name. The desire of eating, for example, which gets the better of the higher reason and the other desires, is called gluttony, and he who is possessed by it is called a glutton; the tyrannical desire of drink, which inclines the possessor of the desire to drink, has a name which is only too obvious, and there can be as little doubt by what name any other appetite of the same family would be called;—it will be the name of that which happens to be dominant. And now I think that you will perceive the drift of my discourse; but as every spoken word is in a manner plainer than the unspoken, I had better say further that the irrational desire which overcomes the tendency of opinion towards right, and is led away to the enjoyment of beauty, and especially of personal beauty, by the desires which are her own kindred—that supreme desire, I say, which by leading conquers and by the force of passion is reinforced, from this very force, receiving a name, is called love (erromenos eros). -- Plato, Phaedrus
Like in the late 1970s, metal feels to many people like it has lost direction and become hollow. Is a change in direction needed, and if so, will that come from within metal?
How do you record Ice Ages material? Have you gone digital, or are you using a traditional studio?
I am a fan of working strictly in digital. The music is created in a digital way and therefore digital recording is the most suitable way for my taste. Meanwhile I even switched to pure software synthesiser and sampler solutions as they are far more powerful and flexible. I really don't miss those analog days, and enjoy the possibilities to create a fine album just with a PC in a small room and to be able to store several of versions of a song-mix and continue with each of them whenever I like. I don't miss all those dusty wires on the floor like in the past.
What kind of community (or "scene," I suppose) is most nurturing to the development of excellent music? Is one required to have a critical mass of artists working in the same area and supporting each other? Or do communities create an expectation of clone music?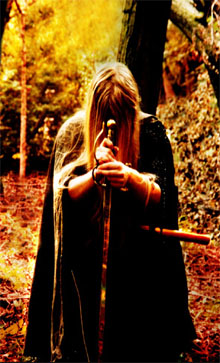 Summoning steadily moved from somewhat traditional black metal to a new style where guitars and keyboards were equally important. This was a first for black metal, and opened up a new style. How did you maintain a consistent sound and outlook with the style changing so much?
If so, is art decoration? Is it propaganda? Or is it a communication between artist and listener? Please explain your choice.
The author Kurt Vonnegut famously referred to art as a canary in a coal mine, or a warning signal for society. Other artists, notably romantics, have claimed that art serves a necessary role in celebration of life. still others believe it should celebrate the artist. Where, if anywhere, do these views intersect, and is it possible for art to exist as a discrete one of them and not as an intersection?
Quorthon of Bathory refers to his music as "atmospheric heavy metal." What does atmospheric composition offer that the world of rock music, jazz, blues or techno cannot?
Do you believe music should be mimetic, or reflect what's found in life, or ludic, and show a playfulness with life that encourages us to experience it in depth? Do the two ever cross over?
Well, it's obvious that my music belongs to a style that does not reflect real life. I think both approaches are OK and necessary, but I prefer to use music as something that's in contrast to normal life. We have real life all the time so I don't see the need to deal with real life in music as well. Modern technological times are pure logic and quite sober so I think especially in these times completely unreal music is more necessary than ever before. I can imagine that if I were to live in the medieval times where thoughts of people were controlled by religions and mystic beliefs far away from the logical mind, I might would try to make music for real life, but as this is not the case there is no need for that.
What distinguishes art from entertainment, and if they overlap, is there a difference in goals between the two?
You've just released a new Ice Ages album. What's next -- will there be a tour, or are you already at work on new projects?