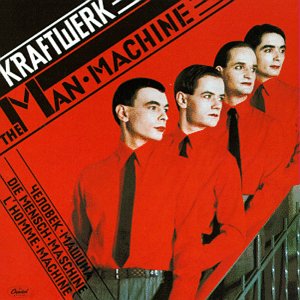 Copyright © 1978 EMI (Capitol)

1. The Robots
2. Spacelab
3. Metropolis
4. The Model
5. Neon Lights
6. The Man-Machine

Simple monotonous beats follow an equal counterpart in melodic percussion, and thereby form a basic rhythmic ground for the music to stand on. On top of this computerized battery, simple but surprisingly profound melodies of treble clearness, pave way for an overall homogenized listening experience.

While holding the basic beat to its own extreme end, rarely deconstructing itself into a space for interludes where a humorously concluding melodic act can take pace, a sense of atmosphere and artistic brilliance in the ambiental mood, play itself to the absolute highest point. All basic ideas are played out according to its own main theme, which deals with social constructions such as shallowness, industrialized monotony and a need for playfully explorations beyond its basic stand.

The musical height in this album stems for its way of using simple ideas presented in a larger perspective, which gives the listener both abstract and experience-based reflections upon each concluding theme. An absolute neoclassical feeling permeates the entire work, mainly caused by the semi-epic melodic structures. The delicate insight in both music and theme is always following each song; the ironic humour and almost over the top metaphoric presentation, confirms this idea.

While many artists have tried the same musical outlook as Kraftwerk, most of them have failed completely. The genius found within these musicians, reach its climax when a lengthy song manage to retain its almost silly simplicity, yet creating melodic complexity on top of that, and thereby never relapsing into boredom or musical overindulgence. "Man-Machine" is therefore an artistic way of growing aware and separating itself from the dangers it is trying to present, by paradoxically using its targets as base for its own musical success; an ironic take on the modern society and its different means of mechanizing the things that make us human.