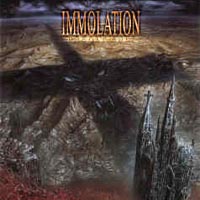 Copyright © 2002 Listenable

1. Of Martyrs and Men
2. Sinful Nature
3. Unholy Cult
4. Wolf Among the Flock
5. Reluctant Messiah
6. A Kingdom Divided
7. Rival the Eminent
8. Bring Them Down

The battered warriors from the east coast return with their latest onslaught of death metal, this time delving deep into their influences and emerging with a heavy/death metal hybrid that emphasizes all of the aspects of playing previously favored as well as experimentalism of a newly loosened variety, within the context of dissonant riffing and complex rhythms that has made the last three Immolation albums remarkably enduring listening experiences. Ross Dolan's throaty vocals open up fullbore on the bounding grooves and surging, diving chorus structures encased in rhythm of balanced pause and momentum overthrow, slinging forward an album in which dead weight is carried far enough to deposit it again on a load-bearing transition. Separation between bass and guitars as independently orchestrated instruments has occurred, giving this band more tactical depth to their strategic mission. Interestingly, the music of Immolation has moved farther from death, heavy or black metal per se and into its own unique hybrid, with a sense of dissonant chord like Voivod, the pacing and melodic counterpoint of Mercyful Fate, and the understated but deftly simple pharsing of black metal. This results in an album that emphasizes less percussive guitar playing and more the structural and melodic components of riffwriting amalgamated into song. Of note are lead guitars, which cut themselves free into studied sculptures of sonic change fitting nicely within their context. As a refined statement of the direction in which Immolation have been going for the last two albums, this album represents a return to their inspirations as well as the highest point yet gained by this band in the craft of songwriting.