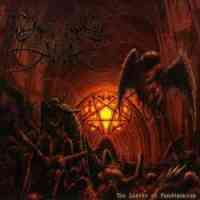 Copyright © 2005 Deathgasm

1. Catalyst's Tongue (05:00)
2. Conquest (01:52)
3. The Devourer (05:20)
4. Epoch (04:42)
5. The Hyperborean's Epitaph (11:14)
6. Redemption (04:16)
7. The Luster of Pandemonium (07:11)
8. Sacrifice (03:02)
9. Of Perverted Hope and Fragmented Suffering (10:14)

One of the few recent death metal albums to approach the style with any ambition, "The Luster of Pandemonium" by Crimson Massacre is an album of beautiful flowing melody with a weakness lying in its enslavement to death metal archetypes of rhythm and dynamics (or, more accurately, lack of dynamics).

Sounding something like a cross between early At the Gates and "Pierced From Within"-era Suffocation, with the flowing melodies of the former combined with the percussive nature and structural complexity of the latter, and played with a technical complexity that would make mainstream "math metal" bands jealous. Riffs are hyperspeed dissonant-melodic phrases that generally last for several bars, with a surprising degree of detail on a note to note level, constantly shifting notes slightly when most other bands would hold a single note until the next large jump higher or lower. Vocals are a competent staccato-rhythm death growl, adding to the constant battery. This battery proves a severe weakness for the album on two fronts- not only does the constant dynamic hide variations and hide the narrative nature of these songs, but it also obscures the album's most communicative element, the flowing AtG style melodies.

If one can listen through the ever-present extraneous abrasion, however, there is much to praise here. The melodic aspect, when isolated, manages to convincingly tell the story of death as the results of decadence, distraction, and weakness, with frenetic chaos, as if reality blurring past unnoticed, passages morphing into amazingly tragic crescendos, as the arc of this story becomes obvious, and then falling back into the chaos, as an uncaring world devours the organism, as a direct result of its weakness- not moralistically, but pragmatically, almost sickeningly inevitably. While possibly needing more maturity and patience before fully flowering, this is the sound of ambition in the underground, in a hungry band with the potential to be great.