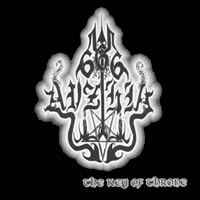 Tracklist
1. Fair Hour
2. The Key Of Throne
3. Supreme Emperor
4. Victory Is Ours
5. Majestic Winter
6. The Look Of Apocalypse
Length: 56:10
The Key of Throne (Old War, 2004)
In the area of aesthetics, this album has moved far past its ancestor and through the tendency of appearance to demand support from content, has regressed in some ways to a more dramatic version of itself; however, the damage is slight and the new incarnation of Avzhia, heavily influenced by later Graveland, produces more beautifully complex music that despite a tendency to lapse into melodies that are far too complete and self-serving, reinvigorates the romantic spirit of black metal. Romanticists tend to take the world literally, warts and all, and instead of trying to avoid its evils try to give them place. This causes a Romantic quest of forever seeking the meaning of the past and the future, and longing to be part of the struggle between emptiness and meaning that rebirths the world. Avzhia is very much in this spirit, with songs that unfold majestically from a few hard-hitting riffs into promenades of graceful riffs which by their emphasis on interchangeable forms, emphasize pattern and through it, structure, like an echo of the romantic ideal of understanding nature at a scientific level, but appreciating the beauty of consciousness that it enables at a scientific level. More riffs are here, and cheesiness is slightly higher in these, as well as in some of the chanted and whispered interludes, but on the whole, quality remains so high that both artistically and musically, this album surpasses its genre at this time. The tendency to recontextualize two oppositional themes is still as present here as on the first album, but now it has been given another dimension, in that like synthpop bands and classical quartets alike, Avzhia like to bring all of the unresolved elements of their music to a fever pitch before summarizing and concluding them. This is insightful, perceptive music and should be treated with respect as it is wholly inaccessible to most of the black metal fanbase at this time.