10 09 08 - 08:35
From the book
Blake and Goethe: Psychology, Ontology, Imagination by Martin Bidney
:
For Goethe as well as for Blake, fruitful competition between opposing forces is the law of life in both mind and world. The contraries are mutual opposition, but their creative tension is the life-giving power that paradoxically unites them. As Goethe says in one of the "Talismans" from the "Singer's Book" of the West-East Divan:

"Im Atemholen sind zerierlei Gnaden:
Die Luft einziehn, sich ihrer entladen.
Jenes bedrängt, dieses erfrischt;
So wunderbar ist das Leben gemischt.
Du danke Gott, wenn er dich preßt,
Und dank' ihm, wenn er dich wieder entläßt."
("Talismane" II. 17-22)

[In the act of breathing there are two gifts of grace: taking in the air and being relieved of it. The former oppresses, the latter refreshes; life is so wonderfully mixed. Thank God when he burdens you, and thank him when he sets you free again.]

Or, as Blake puts it: "Without Contraries is no progression. Attraction and Repulsion, Reason and Energy, Love and Hate, are necessary to Human existence" (The Marriage of Heaven and Hell Pl. 3). Contraries are crucial to human existence, and evidently to cosmic existence as well: the concepts of attraction and repulsion had been given prominence in the intellectual world of Blake's day through the influence of Cartesian and Newtonian science. "Without Contraries is no progression," no life in mind or world, is what Blake means when he says, "Opposition is true Friendship" (MHH Pl. 20).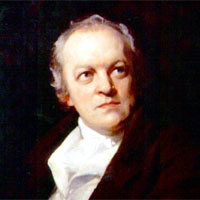 We find in both Blake's and Goethe's visions of creativity in mind and cosmos a kind of breathing motion, what Erich Trunz calls "Emanatio and Regressus," emanation and return. In a passage from Conversations with Eckermann (11 April 1827) Goethe develops this image into a powerful reverie:

"I like to think of the earth with its circle of vapors metaphorically as a great living being, which is engaged in an eternal inhaling and exhaling. When the earth inhales, it draws to it the circle of vapors that approaches its surface and thickens into clouds and rain. I call this condition the water-affirmation [die Wasserbejahung]; if it lasted inordinately long, it would drown the earth. But the earth does not permit that; it exhales again and sends back up the water vapors which spread into all the spaces of the high atmosphere and thin out to such an extent that not only does the brilliance of the sun cross through them, but the eternal night of endless space is seen through them as a fresh blueness. This condition of the atmosphere I call the water-negation [die Wasserverneinung]."

What Goethe calls the earth's affirmation and negation of water is an instance of what Blake would call "Attraction and Repulsion." In the nonhuman universe, Goethe sees no need to distinguish between destructive negations and creative contraries... All contrasts in nature are part of her breathing; one feels that life and death themselves are, by implication, another manifestation of an eternal cosmic inhaling and exhaling.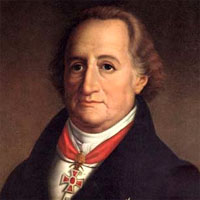 Commentary:
When distilled philosophically, moral absolutes are simplistic visions of the world in that they fail to grasp the natural mechanism of the whole that relies on the interactions between opposing forces. Good and Evil, Life and Death, War and Peace -- these are dualisms in which we've taken the superficially pleasing force and converted it into an absolute without realising that the opposite is required for the maintenance of a higher force. Although life is pleasant and we would hate to see those that we love die, death is necessary to allow new life. The dualism of Life/Death is transcended for a higher purpose: growth.
Black metal hails the realisations of such thinkers as Blake and Goethe by bringing into focus the denied aspects of these dualisms and praising their functions. Black metal was responding to an age where this rhetorical absolutism as derived from Judeo-Christianity saturates all sociopolitical discussion, aiming to bring a sense of holism echoing the thoughts of the Romantics and of an even older pre-Christian Europe where what was natural was more important than what was pleasant (good) or unpleasant (evil). Darkthrone emphasised the dark, cold, and evil forces that create impulsive, Dionysian passion within us. Immortal constructed a fantastical world of Winter storms and epic battlefields. Emperor created works which brought struggle and chaos into a sense of a majestic order. Most of Burzum's work used fantasy to force us to dream of realms where the presence of exciting aspects that have been utterly denied in life leave us feeling that this concrete, absolutist world is boring and mundane -- perhaps even dead -- and forces us to question whether we live in an age of progress or whether the holistic ancients really lived in a greater, natural, more Human age:

Between the bushes we stared
At those who reminded us of another age
And told that hope was away
Forever
We heard elvensong and
Water that trickled
What once was is now
Away
All the blood
All the longing and pain that ruled
Are away
Forever
We are not dead
We have never lived
-- Burzum "Det Som En Gang Var"

by Kalle
two comments