John F. Kerry Speaks About Heavy Metal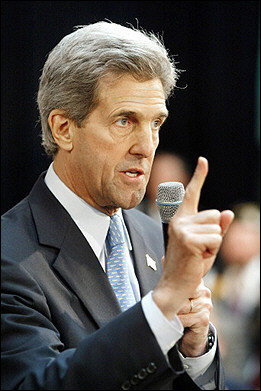 July 2nd, 2005 (Washington, D.C.) - Undaunted by his election loss in 2004 to Republican candidate George W. Bush, John F. Kerry has continued a relentless campaign to attract more special interest voters to his side. Today he expanded that campaign by meeting with the International Hessian Bund, a political action committee for heavy metal fans and musicians.
Opting for the shorter speeches he has favored of late, Kerry attempted to show a familiarity with the heavy metal subcultures and the values that metalheads, or fans of heavy metal, hold dear. Although most attendees appeared dazed, intoxicated or simply distracted, polite applause followed the Kerry presentation.
After the event, Kerry's comment was simple: "I try to reach the people of America, in all of their forms, to let them know the Democratic party also cares about their special interests." When asked if he thought these divergent special interests, such as medical marijuana and murder legalization in the case of headbangers, might conflict with the needs of others, Kerry said, "We will get to that bridge when we come to it."
The twenty-three minute presentation was followed by snacks and a ceremonial playing of "Dead by Dawn" by Florida rockers Deicide, which Kerry jokingly referred to as "that song about the election results last time." Promising a better showing next year, Kerry admonished metalheads to vote early and often for the Democratic candidate, whoever it may be this time.
Copyright © 2005 anus.com