by L.T.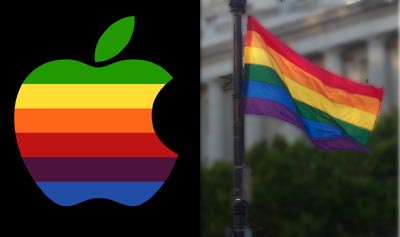 You may know me for my work on an Open Source operating system, but I have a life outside of the computer too, and living as me can get very weird. People recognize my face and hold up stuffed penguins, but I am a quiet Nord, so I nod and smile and drink my beer and am admitted to the secret places of the computer industry without much ado. It is odd the things I have seen; it is odder how it all runs together, like a gigantic cycle between my quiet self and whatever motivated me to write an operating system.
One such odd event occurred at last year's MacWorld Expo, where I went to see the new Macintosh systems that ran a competing UNIX-like operating system. At the front door they waved me in, because my face is entry to many things, as I was to find out later that night. It was pure chaos. Thousands of Macintosh computers stood around, rebooting and crashing and running Puzzle randomly, while people talked about their lifestyle accessories. When you buy a Macintosh, you buy an identity, and it was wading through the identity that became the struggle of the evening.
Finally I made it through the crowd of people comparing New Age crystals, anti-war stickers and ethical products to the keynote address. In a large auditorium, Steve Jobs gave a presentation amidst video screens and rock stars with hair transplants. I was awed. This was UNIX-like living on a big scale, and he was taking home some insane profit from back-dated stocks, so he was a rock star in our view. He got to be both the good guy, and the profit-taker, which makes him a hero to most of us developers working for $70,000 a year in cubicles decorated with Dilbert and World of Warcraft art.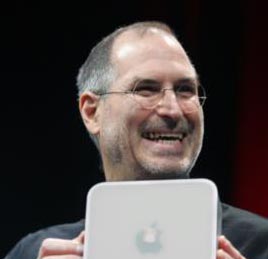 "The future," Jobs said, unconsciously mimicking the "1984" ad Apple ran back in 1984, "is not the faceless corporations, but a corporation with a face: Apple!" The crowd cheered, and I found myself caught up in it. After the presentation, people drained from the auditorium like wound seepage, and I went to the back of the stage. The security guys were both Linux early adopters and so waved me in. Jobs was banging back a glass of something that looked like water but ran more thickly, and I immediately suspected vodka.
"I can't believe the damn thing crashed," he was muttering. When he saw my face, he said, "It wasn't the OS, it was the GUI," and I relaxed immediately. I began to like him. He was such a modern masculine presence, not violent or assertive at all, but always working for his own best advantage. I knew here was a guy who would ask a girl what kind of condoms she preferred, would always vote Democratic, and would never be cruel to another person, knowing that they would someday be his customers. I put down my beer and broke out the bag of Israeli ecstasy I got from the guys at the IBM "Eclipse" table.
Jobs -- Steve, "call me Steve," a real man of the earth like Bill Clinton, he was -- ripped a bag of exciting white powder from his waistline, in the process nearly dropping his pants. An aide wearing one of those vintage Apple rainbow tshirts, now worth about $170 on eBay (the same price as an Apple keyboard in the year they were printed), came running to resurrect the pants. "No worries, we're solid," said Steve, catching his acolyte by the shoulder and propelling him into a prone position where he proceeded to defile him anally. The aide expired with a sigh of deep pleasure, clutching a sweat-and-semen stained iPod as he passed into the next world.
Jobs and I then smoked cigars while the police team, coming from subdivisions where over 89% of the owners were Apple employees, cleared away the wreckage of the Accidental Death, Horse that previously occupied him. "You know the thing is," Steve said, "When you run a multi-billion dollar company that is the only sane corporate alternate for liberals opposed to the corporate products coming from Redmond Washington, it's hard to ever slow down. I can drive our stock price up when I fart, I can shit out a new Macintosh that millions adoringly purchase despite its triple price increase factor, and I can give a press conference that has every right (I mean left) thinking individual out there in orgasmic sense of self-worth. But I've never met someone who could put me at ease like that, make me think everything's alright, and hold me after they come."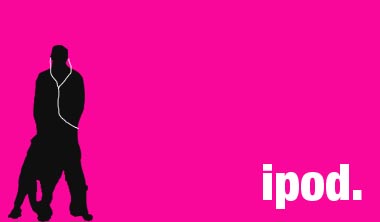 My Nordic eyebrow arched. It had been a long time since I had last spent a loving night with my previous mantool, "Commander" Rob Malda of the neo-Nazi group Slashdot. After exchanging vows of Linux unity, we passed many hours in each other's strong mostly-masculine grasp. We're not homosexuals. Homosexuals are weak. We're men, real men, titans of the computer industry, and we express our faith in each other and the direction of humanity in the hands of technology through our potent inner touch. When I looked back at Jobs (I mean "Steve") I saw this same virility and overpower metrosexual but masculine force within him. My hands trembled.

"You know, L," he said, using my informal name, "We're two of a kind. Solitary individuals, like lone families crossing the prairie to settle in a new land, and we could really have something going here."

"We could," I said, with a wistful smile, as he reached over and pulled me to him.

It was quality tongue on tongue action, with secretive probings below the belt where his six-inch manhood stiffened to attention. "I've always wanted a man who could master me," he said, gasping for air, and with the same forthright laboring that brought us Linux, I yanked him to his feet and dropped his pants. The two Apple staffers nearby, accustomed to sodomy and other drama at work, continued attempting to load a Word document in Open Office without success. I felt his perfectly round buttons with the rough palms of my hands, pushing against the flesh to hint at what was ahead. "I can't wait any longer!" he howled.

Grabbing a decanter of Fair Trade salad dressing from a nearby cart, I splashed the thick goo onto his rectal area and began a warlike attack with my sharpened Nordic sword glistening in the fluorescents. Steve groaned, gushed, wheezed, gurgled and moaned as I probed deeper toward his 802.11g spot, the prostate, with the regal purple head of my iDong crushing intestinal tissue with a delicious slick whisper. "You're a real man, Steve, a man of industry," I murmured in his ear, reaching around to crown the strident head of his member with a gob of Italian dressing. "We can go far."

"Go farther, harder, faster! Think different!" he moaned, and I pushed myself deep within him, touching that crest of pleasure stimulation which made his sturdy stubby vomit forth genetic material never to be translated into child. He collapsed in my arms, sobbing with pleasure, and I stroked his remaining hair with a hand glistening in oil and vinegar, and semen. This scene was to be repeated several times that night as we violated each other with delicious abandon, alone in our world of power while ten thousand ingrates munched hors d'ouvres and guzzled cheap Napa knockoffs amidst a thousand Macintosh computers crashing in unison.

Copyright © 2007